Young Male BC Looking for a Pet Home

Moss is a 2 year-old, pure bred male border collie from working lines.
ABCA registered, Tri-colored, Rough coat, Approximately 36 lbs.
He is in need of a quiet and experienced pet home without children.

Moss is a bright and thoughtful dog. He wants to please and loves to work.
He is slow to warm up to strangers, but trusts them forever if introduced slowly and appropriately.
He gets along well with most other dogs. Has not been around cats but he is great with small dogs.
He's fairly laid back in the house, loves to snuggle, is house-trained, rides well in a car (crated), and walks well on a leash.

His training off of livestock to date:
Sit, stay, down, nose touch to target, heel position, also has a great recall and a few other tricks.
Moss loves his crate and absolutely must have one available to him wherever he goes.
He has taken a couple of classes for obedience and novice rally and did very well. He is attentive and likes learning.
The reason Moss needs a new home is that he's not a good fit for sheep work, and that is the primary training focus in my home. He's still very young and should have more focus put on him than I can provide since I spend a good amount of my free time training and traveling with my Open sheepdog.
He would thrive in a quiet home with his own person or couple to spend time with and a big walk once or twice a day. He would do best without a lot of new people in and out of the house. He would also be a great candidate for a hiking buddy, nose work, rally obedience, or possibly some agility with a patient teacher that can help him with his worry of new places.Border collie experience is preferred. I adore him, am not in a hurry and will be selective about where he goes.
Located in the northeastern part of Maryland, very close to SE Pennsylvania and to the Delaware line. About an hour from South Jersey. Will not ship.
Send questions or inquiries to: agreenway100@gmail.com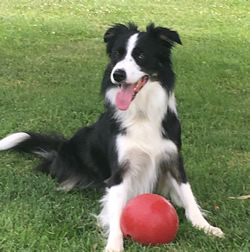 (Ad expires 12/22/2017)